1 Sep
By: The Dodo
Newman, a truck driver, was driving on a Winnipeg, Canada, road with his two dogs when his semi crashed into another vehicle. The truck burst into flames. Newman's other dog, Sasha, escaped unscathed but Snowflake, a two-year-old poodle, was badly burned.
Newman, who also suffered extensive burns, rushed into the wreckage to carry Snowflake to safety.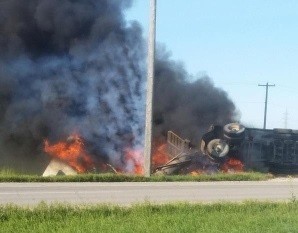 Snowflake was taken to the Winnipeg Humane Society where she has been undergoing daily, intensive treatment for her severe injuries.