10 Dec
By: The Dodo
(Guest post by Ameena Schelling from thedodo.com)
A baby elephant recently had a very close escape from a hungry crocodile.
Zimbabwean farmer Francois Borman, who photographed the incident in October, said the thirsty calf had run up to the water for a drink as the rest of his herd trailed behind him.
"He ran straight in and flopped down into the shallow, muddy water, rolling and splashing about," Borman said. "It didn't have a worry in the world."
Because the calf was so young, he didn't know how to use his trunk yet and thrust his whole face in the water to drink with his mouth — making him the perfect target for a waiting crocodile.
The calf ran up to the water, clumsily trying to drink ...
... and quickly found himself in the mouth of a hungry crocodile.
10 Nov
By: Mary Beth McAndrews
Pat Aydellot was out golfing in Naples, Fla. when he spotted something unexpected, to say the least. Out on the green, Aydellot found an alligator with its jaws clamped down on a python. So, of course he snapped a photo.
The Classics Country Club, where Aydellot is a member, posted the photo to their Facebook page, jokingly telling Aydellot to get a closer shot next time.
While this is a savage moment, the alligator is actually doing Florida a service. Pythons are not native to the state and while over 2,000 have been removed in the past 15 years, experts think that is only a fraction of the total population. Kathy Worley, director of science at the Conservancy of Southwest Florida, told Fox4, "anything that removes one python from the equation ... is a good thing."
Gators are common on Florida golf courses. Watch the Gator Boys catch one here!
10 Aug
By: Mary Beth McAndrews
A 37-year-old woman was attacked by an alligator while swimming in the Wekiva River in Orlando, Fla. on Saturday afternoon. According to NBC News, she was swimming in a secluded area when the alligator grabbed her by the arm and dragged her under the water. She was saved by kayakers who hit the alligator on the head until it let her go. 
The woman has reportedly lost her right arm just below the elbow. She didn't suffer any other injuries. This is the second alligator attack in Florida in two weeks.
Watch more gator videos here, with a playlist of some of the best moments from 'Gator Boys.'
Make sure to tune in to Gator Night on Monday, August 17 at 7/6c!
4 Aug
By: Nesa Nourmohammadi
As if sharks were the least of our worries at the beach this summer...
Beachgoers in Pawleys Island, South Carolina were in for a surprise when a 7-foot alligator came out of the waves and washed up ashore, according to ABC News. After two hours, police and animal control caught the gator and relocated it to a more suitable location.
28 Jul
By: The Dodo
(Guest post By Caitlin Jill Anders from thedodo.com)
Cats don't like to take a lot of crap. If you ask them, they're the ones who rule the household, the backyard, the world, etc. Even something super scary and imposing — like say, an alligator — might not phase a cat. Cats are pretty badass.
In fact, we have have found the most badass cat of all in an incredible 2014 video. This guy wanders next to a swampy area where a whole bunch of alligators are just hanging out, and instead of keeping a safe distance ... he walks right up to one of the toothy animals.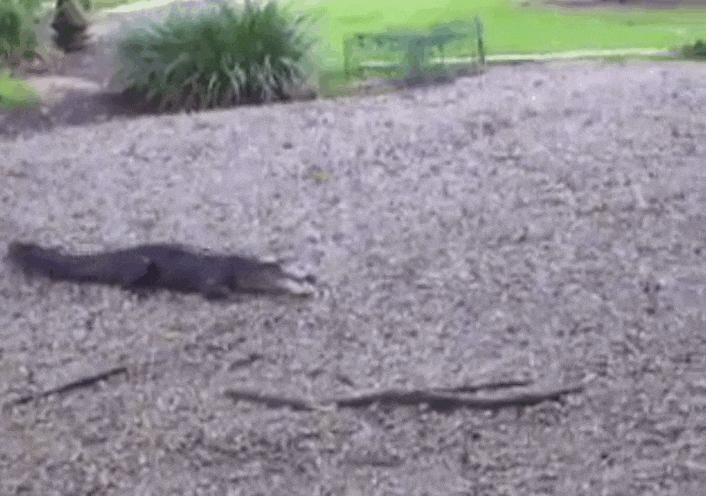 Facebook/Suelo Trade GmbH
People watching and filming immediately start freaking out, yelling things like, "Get the cat away," and "Oh no, the kitty!" Cat was not phased though. After all, everyone doubted Hercules at first, too.
24 Jul
By: The Dodo
(Guest post by Sarah V Schweig from thedodo.com)
They say that if you can make it in New York City you can make it anywhere.
And one sassy, scaled river animal wants in on the Manhattan rat race. "So this alligator was crossing 9th Ave in #Inwood...no, really," The NYPD's 34th Precinct tweeted about the alligator, who simply wanted to be a part of it.
So this alligator was crossing 9th Ave in #Inwood...no, really. At 205 Str. Cops took him to Animal Control #whatnext pic.twitter.com/EG5Z3bkQPl

— NYPD 34th Precinct (@NYPD34Pct) July 23, 2015
"I think that might be a crocodile," an astute tweeter pointed out.
@NYPD34Pct @jdavidgoodman I think that might be a crocodile.

— Lizzie O'Leary (@lizzieohreally) July 23, 2015
And the NYPD replied in with characteristically dry, Big Apple wit: "Oh, ok. Then it makes much more sense that he'd be on 9th. That's more of a crocodile hangout than an alligator spot...thx."
.@lizzieohreally Oh, ok. Then it makes much more sense that he'd be on 9th. That's more of a crocodile hangout than an alligator spot...thx

— NYPD 34th Precinct (@NYPD34Pct) July 23, 2015
The ambitious reptile was taken to New York's Animal Care Centers, where he awaits a replacement back into the wild with a good wildlife rehabilitator, to help him give up city dreams and stay in the environment where he belongs.
13 Mar
By: Jodi Westrick
Golfers at Florida's Myakka Pines Golf Club not only have to deal with the challenges of the 27-hole golf course, but also with alligators who tend to lounge on greens.
The club shared photos snapped by a member on their Facebook account last week and the photos have since gone viral, according to a story in The Guardian. Apparently, alligator sightings on the golf course are so common, the club has instituted a rule if a gator is spotted: don't go to the green, instead take two putts.
"It's impossible to play 18 holes and not see at least one alligator," Mickie Zada, Myakka's general manager, told The Guardian. "When you're in Florida, you're going to see alligators."
The club, located in Englewood, Fla., is housed on open land near the Everglades, thus making it a great location for the gators to trek through on the way to swamps - or on the hunt for food, new territory or a mate now that winter is ending and the temperatures are warming up.
Check out how the Gator Boys handled a gator on another Florida golf course:
17 Dec
By: Jodi Westrick
It's no secret that our Animal Planet stars love working with and saving animals - but they're also just as passionate for great causes like Make-A-Wish, which grants the wishes of children diagnosed with life-threatening illnesses. More than a few of these "wish kids" want to meet everything that crawls, slithers, flies or swims - and who better to help make these wishes come true than Animal Planet and its stars?
Caylee (photo above) is four years old and battling a gastrointestinal disorder. She loves the Gator Boys and Paul Bedard and Jimmy Riffle were just as excited to meet her and show her the ropes. She even got a lesson in wrestling a stuffed-animal gator. Check out more of her wish visit in the video below.
Want to watch even more magical moments? Check out AJ picking out a tree for his awesome treehouse with Pete Nelson, Wyatt taking over River Monsters with Jeremy Wade and much more in our Make-A-Wish playlist!
Do you want to help grant a wish for a child in need? Learn how at: www.wish.org
30 Jul
By: Kelly Schwab
This Sunday, August 3rd, the wait is finally over! The Gator Boys are back for an all new season and it's all being kicked off with a special two part season premiere beginning at 8PM E/P! This season will be sure not to disappoint as the team continues their work to capture gators, move them to more suitable homes, and educate the public about these fascinating creatures.
Sunday's two-part premiere will also mark a Gator Boys first as the team travels to Mexico. Gator Boys leader, Paul Bedard has been asked to help an aquarium in Mazaltan start up thier own no-kill crocodile resuce and also to help with the hunt for  the legendary monster-croc, "El Diablo,"  which has terrorized the locals for quite some time now.
The adventure never stops for the Gator Boys, so be sure to tune in every Sunday at 8 PM E/P to find out what Paul, Jimmy, and the rest of the team are up to. Until then, take a look back and enjoy this compliation of some of the team's best catches!
23 Jul
By: Joseph Schaefer
S'mores, spooky stories and a campfire make up a typical, safe, night of camping.
For a group of teens in Texarkana, TX, things became truly spooky when a large guest decided to join the fun. The kids heard something perusing around their tent, but didn't know the size of the visitor until the next day.
The next morning, while swimming in a pond, they were chased out by an eight-foot-long, 300-pound alligator. A wildlife expert said the alligator could have seen the kids as prey, if the gator was indeed following them. 
 --
This isn't the only time someone has been chased from a nice swim! Watch when Paul and Jimmy, from Gator Boys, had to rescue a gator from someone's pool. 
Make sure to tune in to an ALL NEW season of Gator Boys, August 3rd at 8/7c!