8 Feb
By: The Dodo
(Guest post by Christian Cotroneo from thedodo.com)
Everyone has a rough day now and again.
But the next time you wake up on the apocalyptic side of the bed, please consider Albert.
Albert is not a criminal mastermind's apprentice. He's not a super villain's sidekick.
He's just a cat recovering from an "owie"
Nothing nefarious here. Seriously, just a cat.
Nothing soul-crushingly sinister in that stare.
Just a cat. Just a cat. Just a cat.
Having a bad day.
But it's not the end of the world. We promise.
Like cats? Check out this breed who is half Burmese and half Chinchilla.
4 Feb
By: The Dodo
Meet Nutalie Portman. (She's also a squirrel.)
YouTube user Steve Barley recently ran across the up-and-coming animal celebrity after building a movie-themed obstacle course in his backyard. With the camera rolling, the deft little rodent is seen leaping into action, surmounting various film-inspired hurdles in her path to claim her reward of nuts.
Amazingly, she did it all with an injured paw!
Sure enough, the story gets even better yet. A couple of weeks later, Barley caught back up with Nutalie to find that her paw had healed back to normal.
Now that's a comeback story.
Molly and David from Backyard Habitat show you how to keep your yard bird AND squirrel-friendly!
3 Feb
By: Mary Beth McAndrews
Taping the Puppy Bowl is always something we look forward to here at Animal Planet, but we were especially excited for this year because we had a special guest joining us!
Marnie – a 13-year-old rescued Shih Tzu and one of the most famous dogs on social media – stopped by the studio to lend a hand to our team and the spunky adoptable puppies looking to get their chance at the limelight and find their forever homes. She even makes a surprise appearance in the actual Puppy Bowl!
Her first stop was to meet Dan the Ref and see what it is really like to manage the parade of pooches gallivanting all around the field.
Marnie even made her way onto the grid iron at halftime to score a touchdown! It is safe to say, she was made for the spotlight.
After seeing what goes on in front of the camera, Marnie traveled backstage to join Executive Producer Melinda Toporoff in the control room. Melinda loved having Marnie there to help her run the show – our team can always use more inspiration. She even learned a little about production along the way! Could this be her next gig?
Meeting all these playful puppies and so many people can be tiring, so Marnie headed into the VIP room and took a quick break. I can't say we weren't jealous…
Soon it was time for Marnie to head back home and reflect on everything that happened that day. We were definitely sad to say goodbye, but hoped she loved every minute of it as much as we did! But we couldn't let Marnie go without letting her share a message with everyone first:
Although these puppies – and let's face it, all puppies – are beyond adorable, Marnie wants to remind everyone of the importance of adopting senior dogs from rescues and shelters. She was adopted from a shelter in Connecticut at 10-years-old and couldn't be more thankful for her second chance in a happy home. 
See more of Marnie at https://www.instagram.com/marniethedog/?hl=en be on the lookout for more Puppy Bowl updates!
Tune in to Animal Planet Puppy Bowl XII on Sunday, February 7 at 3:00 p.m. ET/PT to watch the most adorable game on television!
1 Feb
By: The Dodo
(Guest post by Christian Cotroneo from thedodo.com)
Sometimes, it takes a little more than the usual squeezing, sliding and scooching over to make sure everyone is comfortable.
Especially when we're talking about a gaggle of great Danes. And one very small couch.
These three giants were spotted by foster mom Dianna Helmers trying to cozy up on her couch in rural Iowa.
Helmers, who runs Agape Fosters in Iowa, says she would have taken a video of the whole operation, "but they move like tortoises and that could be long and boring."
It all began with Clyde. At around 12 years old, he's the elder statesman of the trio — and has really earned his sprawling spot on the couch.
26 Jan
By: The Dodo
(Guest post by Caitlin Jill Anders from thedodo.com)
Ozzy the rescue weasel was playing with one of his toys and something amazing happened — he finally caught it.
In celebration of this incredible accomplishment, Ozzy decided to have a little celebration dance — and once he started, he just couldn't stop.
Dance Ozzy, dance!
The dance Ozzy is doing is called a "war dance," which weasels and ferrets do when they're super excited — usually about something they've just caught or stolen.
Basically, Ozzy is SUPER pumped about that toy, and watching him dance around in joy is pretty fantastic!
While weasels are uncommon pets, ferrets are easier to find and just as cute! Learn more about having these funny creatures as pets here:
26 Jan
By: The Dodo
(Guest post by Stephen Messenger from thedodo.com)
Sure, snakes probably aren't the first creatures who come to mind when thinking about cute animals — but this tiny newborn still might just slither her way into your heart (metaphorically speaking, of course).
Meet the newest arrival at the Australian Reptile Park: this very wee King brown snake. Just try not to gush at seeing the scaly baby begin to hatch from her egg, entering the world with what appears to be one of the heartiest little yawns ever caught on film.
Such a special moment caught by our head of Reptiles & Venom Billy Collett! One of our brand new, freshly hatched king brown snakes taking its very first breath!!!!

Posted by The Australian Reptile Park on Friday, January 22, 2016
Now, before you run off to cuddle one of these suddenly lovable-seeming reptiles, it should be noted that King brown snakes produce highly toxic venom and aren't afraid to use it on humans who get too close. But hey, at least their baby yawning is cute.
You think baby snakes are cute? What about snakes AND puppies?
25 Jan
By: The Dodo
(Guest post by Stephen Messenger from thedodo.com)
Things took an awkward and unpleasant turn for one curious bobcat after he decided to drop by for a visit with his fluffy domestic counterpart.
In this memorable little scene caught on film in Canada, the bobcat, who appears pretty much totally calm and composed, receives a rather ungracious sort of welcome from the house cat behind the glass. Indeed, casting aside any possibility of achieving harmony among felines, the angry pet basically throws a hissy fit.
Makes you wonder who the "wild" one really is in this scenario.
Check out MORE kitties:
22 Jan
By: The Dodo
(Guest post by Hudson Hongo from thedodo.com)
After careful analysis, a California veterinary hospital concluded this week that an animal believed by police to be a "weird-looking cat" is, in fact, a normal-looking seal.
Staff at The Marine Mammal Center first learned of the oddly flippered feline on Wednesday, when officers passed on reports of a baby seal "flopping around in the bushes" in Hayward, California, three miles inland from the San Francisco Bay.
21 Jan
By: The Dodo
(Guest post by Stephen Messenger from thedodo.com)
It's no secret that squirrels are experts when it comes to foraging for nuts. But one fluffy-tailed tree dweller has evidently discovered a much more convenient way to secure himself a tasty snack.
He's found a human who's just giving them away.
In an unusual arrangement, YouTube user Sigma207 has begun to be visited by an oddly insistent little local — this polite, albeit somewhat demanding squirrel.
Over a series of videos uploaded in recent days, the furry freeloader can be seen eagerly waiting outside a back window to ask for some food. In the first clip, the squirrel appears to be a bit hesitant as the person filming reaches out with a peanut in hand to oblige him, but in time the charity-seeker grows ever bolder. 
On his second visit, the squirrel seems slightly more assured that his request will be granted. Still, he's apprehensive when it comes to collecting his prize. 
20 Jan
By: The Dodo
(Guest post by Chloe Bryan from thedodo.com)
Nervous to leave the den? Catch a ride with your mom.
In a series of gorgeous photos captured by conservation photographer Daisy Gilardini, a 4-month-old polar bear cub in Canada's Wapusk National Park prepares for his first trip out of the cave.
But since he's new to this whole "outside" thing, he'll need his mom to keep him company.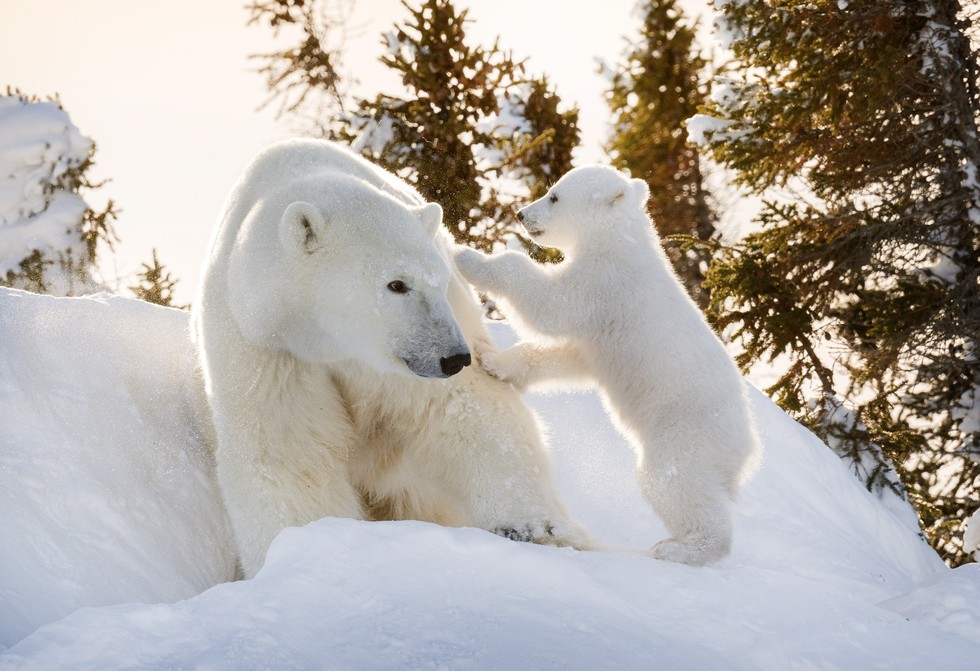 CATERS NEWS
In fact, yeah ... is it cool if he just hangs on the whole time, Mom?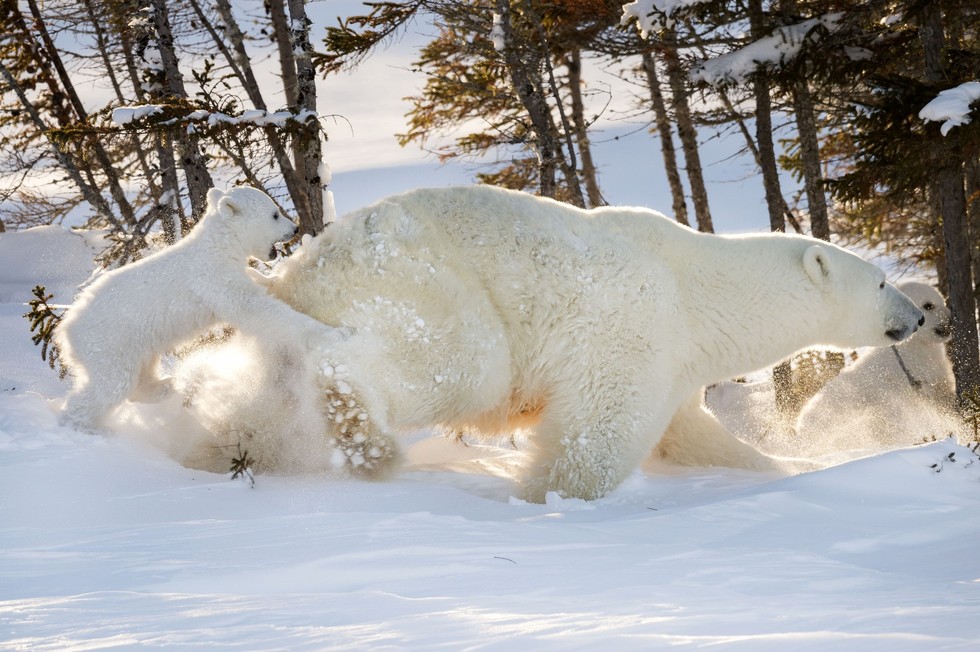 CATERS NEWS
shows

video

mobile

stay connected

our sites

shop

corporate