10 Dec
By: The Dodo
(Guest post by Ameena Schelling from thedodo.com)
A baby elephant recently had a very close escape from a hungry crocodile.
Zimbabwean farmer Francois Borman, who photographed the incident in October, said the thirsty calf had run up to the water for a drink as the rest of his herd trailed behind him.
"He ran straight in and flopped down into the shallow, muddy water, rolling and splashing about," Borman said. "It didn't have a worry in the world."
Because the calf was so young, he didn't know how to use his trunk yet and thrust his whole face in the water to drink with his mouth — making him the perfect target for a waiting crocodile.
The calf ran up to the water, clumsily trying to drink ...
... and quickly found himself in the mouth of a hungry crocodile.
24 Nov
By: Mary Beth McAndrews
Bindi and Derek's freestyle dance!

What an amazing night for Bindi and Derek Hough! They had a perfect score, getting 10s from all the Dancing with the Stars judges for both of their dances. Check out #TeamCrikey's freestyle dance that didn't leave a dry eye in the house. Don't forget to vote for them here: http://on.fb.me/1O0PXDg

Posted by Australia Zoo on Monday, November 23, 2015
Each week you think she can't out do herself, but every week, Bindi Irwin seems to do it! During the past 11 weeks of Dancing with the Stars, she has consistently wowed both the judges and the audience with her precise dance moves, charming personality, and touching tributes to her father, the late Steve Irwin.
Last night, during her final dance of the season, Bindi and her dance coach, Derek Hough, performed a contemporary freestyle dance to Leona Lewis' "Footprints in the Sand" as a tribute to her father. What she didn't expect was a large photo of her and Steve Irwin to appear at the dance's end. Needless to say, there wasn't a dry eye to be found.
Bindi then shared this family photo:
She and Hough were awarded a perfect score. Fingers crossed that she wins the Mirror Ball tonight!
Watch her and Steve dance together here:
18 Nov
By: Jodi Westrick
Two university students had an unexpected guest show up to their picnic lunch the other day. Imagine their surprise when an alligator helped itself to some blanket lounging and a sandwich.
According to WUFT, Michael Tamayo and a friend were enjoying the nice lunch at Lake Alice near the University of Florida's campus. While Tamayo snapped a photo of a nearby couple, the alligator snuck in and made its move. After it had finished its snack, Tamayo was able to shoo the gator back to the water.
Dr. Kent A. Vliet, a UF researcher who has studied alligators for 35 years, said the group did the right thing, but would have been perfect had they removed the food before the alligator could eat it.
Check out this video of authorities capturing and relocating an alligator blocking a busy street.
28 Oct
By: Mary Beth McAndrews
We've been posting a lot about pet Halloween costumes, from videos to our adorable photo gallery. But we know there are people out there who are at a loss for what to be for Halloween! There are just so many choices that it can be overwhelming! So, the World Wildlife Federation is here to help with some animal inspiration!
Clown Fish
Feeling funny and fishy? Dress up like a clown fish with a stripped costume. Clown fish live in a mutually beneficial relationship with sea anemones; the fish have a protective mucous coating that makes them immune to the stinging tentacles.
Flamingo 
If your favorite color is pink, flamingos might be a good choice for you. Flamingos have unique bills that help them feed by plunging their heads into the water upside-down and filtering the water for shrimp, which in turn gives the flamingo its bright pink color.
16 Oct
By: Mary Beth McAndrews
On October 8, yet another elephant was killed by a trophy hunter, this time in Zimbabwe's Gonarezhou National Park.
The death of this elephant is especially tragic due to the creature's size. According to hunting forums, this elephant may be the biggest killed in over 30 years. Another piece of evidence for his size is the weight of his tusks. Each tusk weighs 120 pounds and touched the ground when he was standing. 
What kind of a man gets his kicks from shooting a magnificent animal like this? http://t.co/EI8QnCJMU3 pic.twitter.com/CZEymbCd02

— Tim Stanley (@timothy_stanley) October 16, 2015
The hunter, from Germany and whose name has not been released, reportedly paid £39,000, or $60,000, for a permit to hunt the Big Five: elephants, leopards, lions, buffalo and rhinoceros. The Telegraph reported that the hunter "was accompanied by a local, experienced professional hunter celebrated by the hunting community for finding his clients large elephants."
The elephant's origin is still unknown, as he had never been seen in the park before. He had also never been seen South Africa's Kruger National Park, which borders Gonarezhou. Officials from both parks are still investigating his identity. 
The local hunter told officials he wasn't aware of the elephant's size until after he had been killed. This elephant's death follows the discovery of 26 elephant carcasses who had been poisoned with cyanide. 
We will continue to update this story as it develops. 
Learn more about what you can do to protect the world's elephants here.
Learn more about Kruger National Park and its poaching problem here:
9 Oct
By: The Dodo
(Guest post by Anna Swartz from thedodo.com)
This is a baby hippo names George — and instead of being scared of the crocodiles who live near him on the Turgwe Hippo Trust in Zimbabwe, he wants to play with them.
"HEY. Whatcha doing?"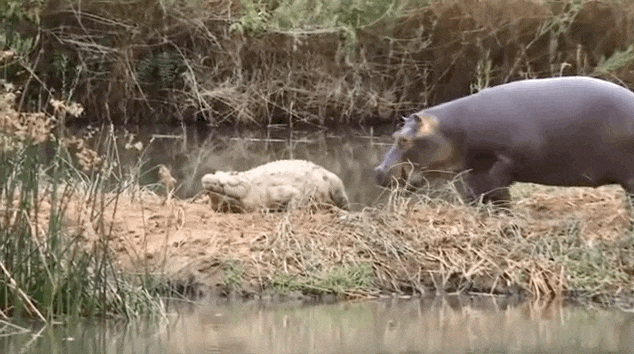 "George was most definitely playing," explains Karen Paolillo of the Turgwe Hippo Trust, who captured the footage. "He does that often with crocs it is a game just like a puppy or a kitten."
10 Aug
By: Mary Beth McAndrews
A 37-year-old woman was attacked by an alligator while swimming in the Wekiva River in Orlando, Fla. on Saturday afternoon. According to NBC News, she was swimming in a secluded area when the alligator grabbed her by the arm and dragged her under the water. She was saved by kayakers who hit the alligator on the head until it let her go. 
The woman has reportedly lost her right arm just below the elbow. She didn't suffer any other injuries. This is the second alligator attack in Florida in two weeks.
Watch more gator videos here, with a playlist of some of the best moments from 'Gator Boys.'
Make sure to tune in to Gator Night on Monday, August 17 at 7/6c!
30 Jul
By: The Dodo
(Guest post by Ameena Schelling from thedodo.com)
This alligator isn't daunted by 3-foot fences.
YouTuber Duce Brickenson worked for a tour company in the Everglades when he took this video, which was posted in 2013. Part of his job was to remove any alligators from the parking lot, so they wouldn't get injured by cars or visitors.
"The tourists that come here are pretty stupid, and are usually the instigators of alligator bites," he wrote in the video description.
In the video, he spots a medium-sized alligator roaming around the parking lot and ushers it over to a fence. Crouching down by the hissing reptile (Note: Don't get this close to an alligator unless you know what you're doing), he encourages it to hop over.
Sure enough, the ungainly gator pulls himself upright and latches onto the fence, quickly scampering up to the top. He unceremoniously plops down on the other side, rights himself and quickly hurries off home.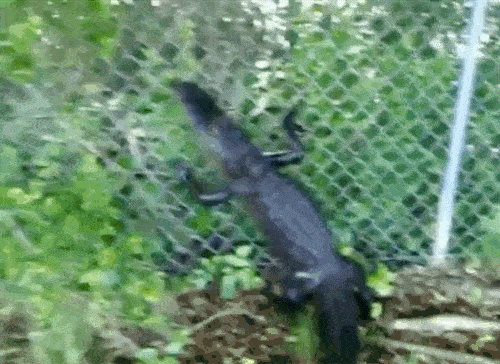 The video is impressive, both for the alligator's skill and because scientists are still learning about them and their climbing abilities; just last year a paper documented their ability to climb trees.
"Gators are truly amazing creatures, and you'll never know all their secrets unless you actually spend time in the everglades; and observe them up close like I did," Duce Brickenson wrote. "It's amazing to think that some scientists don't even know that alligators can do this."
28 Jul
By: The Dodo
(Guest post By Caitlin Jill Anders from thedodo.com)
Cats don't like to take a lot of crap. If you ask them, they're the ones who rule the household, the backyard, the world, etc. Even something super scary and imposing — like say, an alligator — might not phase a cat. Cats are pretty badass.
In fact, we have have found the most badass cat of all in an incredible 2014 video. This guy wanders next to a swampy area where a whole bunch of alligators are just hanging out, and instead of keeping a safe distance ... he walks right up to one of the toothy animals.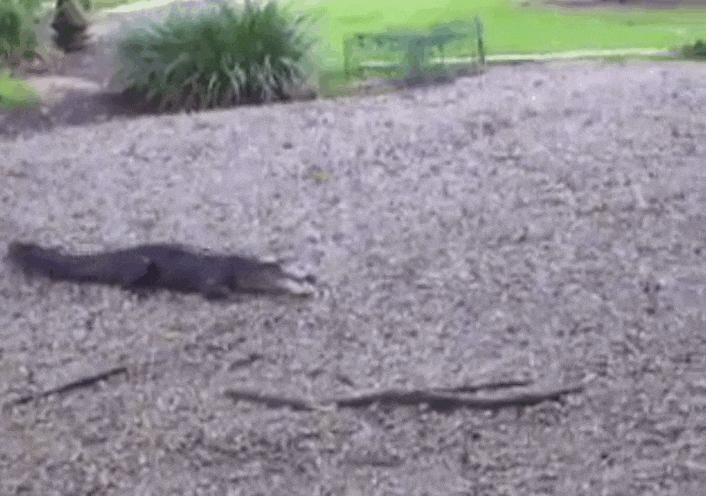 Facebook/Suelo Trade GmbH
People watching and filming immediately start freaking out, yelling things like, "Get the cat away," and "Oh no, the kitty!" Cat was not phased though. After all, everyone doubted Hercules at first, too.
24 Jul
By: The Dodo
(Guest post by Sarah V Schweig from thedodo.com)
They say that if you can make it in New York City you can make it anywhere.
And one sassy, scaled river animal wants in on the Manhattan rat race. "So this alligator was crossing 9th Ave in #Inwood...no, really," The NYPD's 34th Precinct tweeted about the alligator, who simply wanted to be a part of it.
So this alligator was crossing 9th Ave in #Inwood...no, really. At 205 Str. Cops took him to Animal Control #whatnext pic.twitter.com/EG5Z3bkQPl

— NYPD 34th Precinct (@NYPD34Pct) July 23, 2015
"I think that might be a crocodile," an astute tweeter pointed out.
@NYPD34Pct @jdavidgoodman I think that might be a crocodile.

— Lizzie O'Leary (@lizzieohreally) July 23, 2015
And the NYPD replied in with characteristically dry, Big Apple wit: "Oh, ok. Then it makes much more sense that he'd be on 9th. That's more of a crocodile hangout than an alligator spot...thx."
.@lizzieohreally Oh, ok. Then it makes much more sense that he'd be on 9th. That's more of a crocodile hangout than an alligator spot...thx

— NYPD 34th Precinct (@NYPD34Pct) July 23, 2015
The ambitious reptile was taken to New York's Animal Care Centers, where he awaits a replacement back into the wild with a good wildlife rehabilitator, to help him give up city dreams and stay in the environment where he belongs.